In this time of digital era where keeping up with time has become difficult and challenging with many entrepreneurs, it has also become tough to maintain a healthy and balanced life. Well, we all know health plays an important role when it comes to work and maintain a proper balance. So the one thing that really needs to be kept in mind is to maintain a proper healthy life along with proper sleep.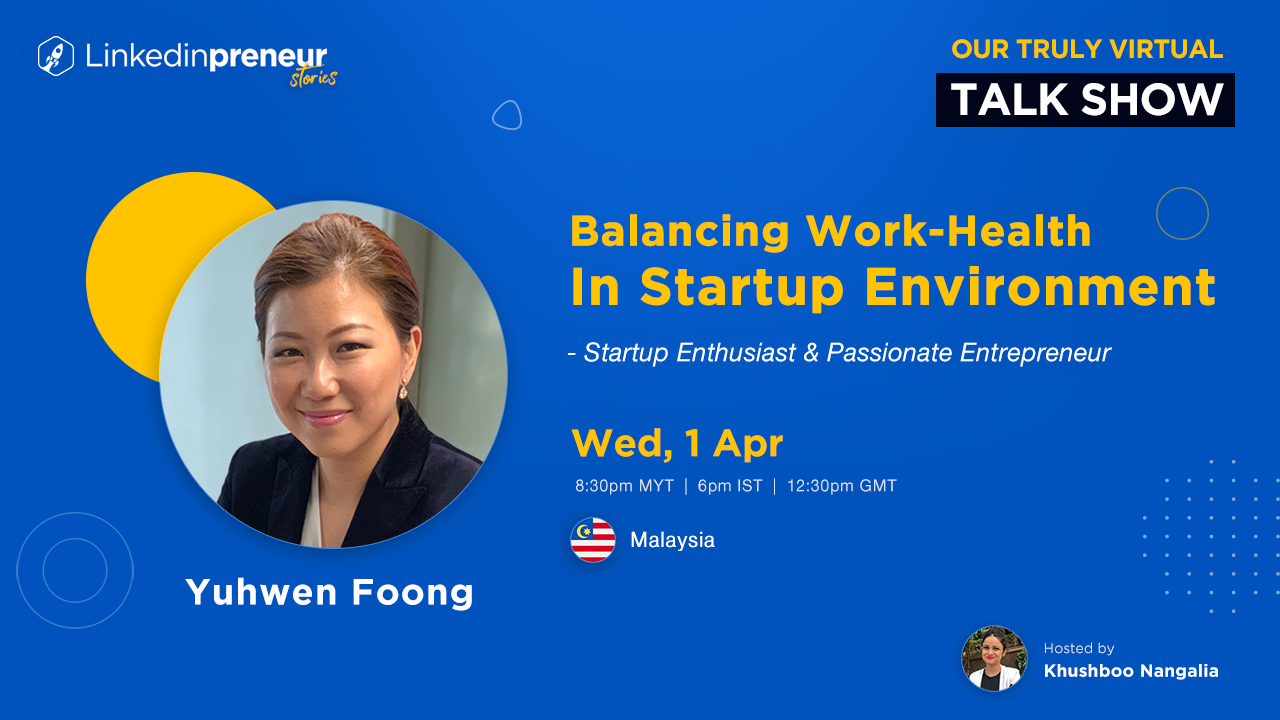 In today's EP09 which is our last episode of edition 1 of Linkedinpreneur Stories, I have a special guest, who is not only successful but giving tough competition to others being a woman. I welcome Yuhwen Foong - Founder of SushiVid, ASEAN leading influencer marking company. She produced over 11000 branded content for brands across Southeast Asia for over 1500 brands.
She is here to share with us how to manage a proper balance on Work-Health in Startup Environment. She will be sharing her own personal health issues that she is dealing with and how she is managing to keep up with her health and also run such a huge company.
Find what you're good at and then work on it to bring the most out of it
Watch this episode of Linkedinpreneur Stories for COVID-19 special and know How Yuhwen dealt with her problems in life, never lost hope and fought hard to become what she is now. If you want to know How she overcomes her hurdles and still dealing with her health issue then stay tuned to today's episode.
Here is a sneak peek from today's episode:
Rapid Fire Round
Top 3 Website - Loreal.net, Bloomberg
Personal Mentor - Yew Jin Teoh
Book - Autobiography of Robert Kuok
1 Podcast - Pastor John
T.V Show - Big bang theory
In this Episode, You are going to know
How the COVID situation is impacting her business?
Some challenges that she had to go through during growth, redemption or even during the setup time?
How is it like being in a male-dominated business?
What kind of habits does she suggest that we need to imbibe to be productive in startup life?
Her take on Linkedin as a platform for startups, entrepreneurs and businessmen?
Did she always want to be an entrepreneur?
What is the dark side of Yuhwen?
What is her typical 9 to 5 schedule at work looks like?
It was simply amazing to have successful women entrepreneur in the last episode of the Linkedinprenure series. It takes courage to open up with such candidness about once personal life and also professional life. If you are facing trouble maintaining your both worlds together then this episode is just right for you. Listen up to get more info about health and work balance.
Get in touch with Yuhwen Foong at