It's always so great to bring such huge personalities under one roof, discussing their thoughts and ideas. Keeping in mind the present situation and how it is impacting all the companies along with fellow human beings, it is absolutely important to know some thoughts from the industry experts.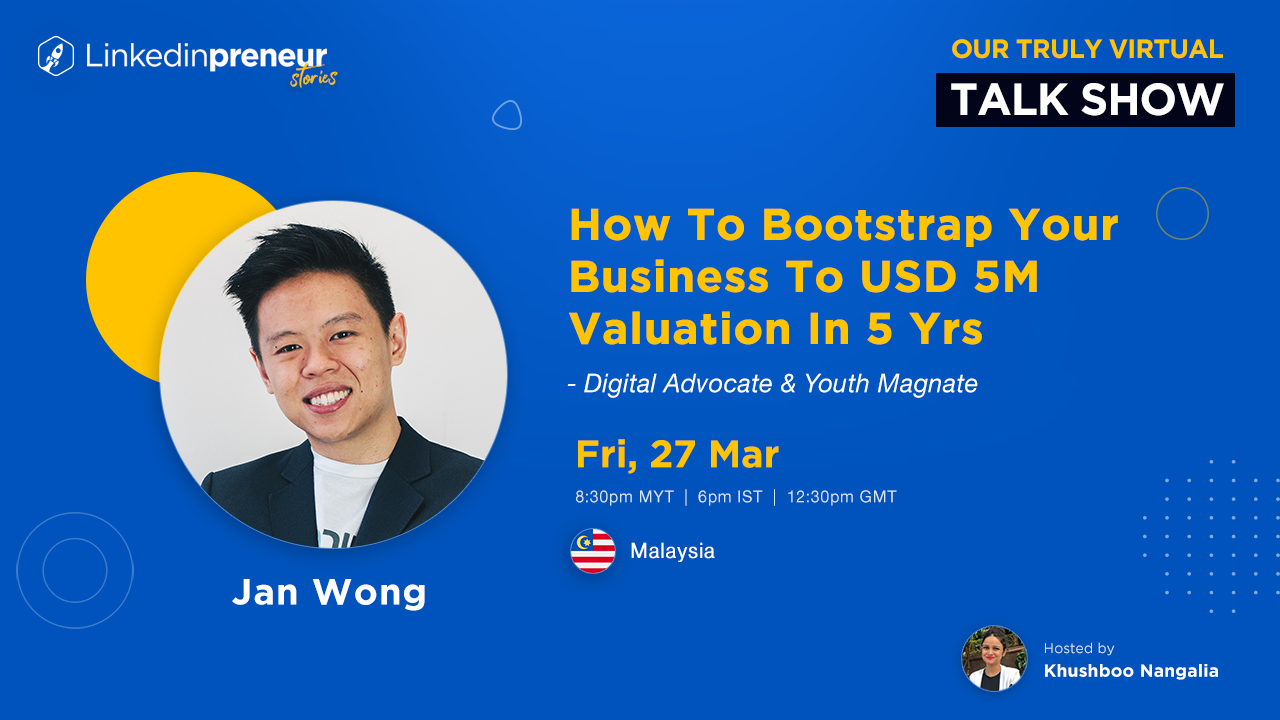 Today in EP04 of LinkedInprenure Stories we will discuss – "How to Bootstrap your Business to USD 5M Valuation in 5Yrs" and more with our guest Jan Wong - Founder of Open Minds, TEDx Speaker, an Entrepreneur, Youth advocate and also Forbes 30 under 30 we will be sharing his thoughts on How COVID has exactly impacted in his life as well as his business, alongside his journey in OpenMinds and how did he managed to make it successful?
Jan Wong is an expert in bootstrapping has bootstrap his business to USD 5 Million valuations in just 5 years. In initial days he did face a lot of hurdles but with his immense effort and a great team he overcomes the challenges and now he can proudly say He is the founder of OpenMinds.
Finding the right talent is the combination of a few things, the most important among them is the Foundation of the company, Brand positioning in the market, and the Culture of the company
Watch today's episode of LinkedInprenure Stories for COVID-19 special and get all the inspiration that you need to be positive and dedicated toward your work. Listen to Jan Wong and his amazing morale and innovative ideas to keep his feet on the ground and be successful.
In this Episode, You are going to know
How exactly was his journey like with OpenMinds? How did he manage to do that?
What advantage is there from bootstrapping and how did he build a great team?
Challenges that he faced during his journey
His favorite book, mentor, websites, and more
How to be transparent in communication in an organisation?
What kind of clients does he work for?
A very quick candid game about his likes
3 tips for people who want to bootstrap their business
Well, it is always great learning more from such great industry experts and know their hurdles, struggles, their first step toward success and many small details about their life. If you want to know everything from bootstrapping to teamwork then tune in to today's episode.
Get in touch with Jan Wong at