During this deep humanitarian crisis, the one thing that needs to be done is a complete lockdown which will help to stop the spread of Coronavirus, well we all know that this will also impact the economy throughout the world as well.
So in our EP01 of Linkedinpreneur Stories, we welcome Aaron Foo, head of product strategist at iCarAsia, digital enthusiast, and also a speaker and an author. He is here to speak more about brand strategies and how everyone is so impacted by the digital platform and also how much the pandemic is affecting businesses and work throughout the world.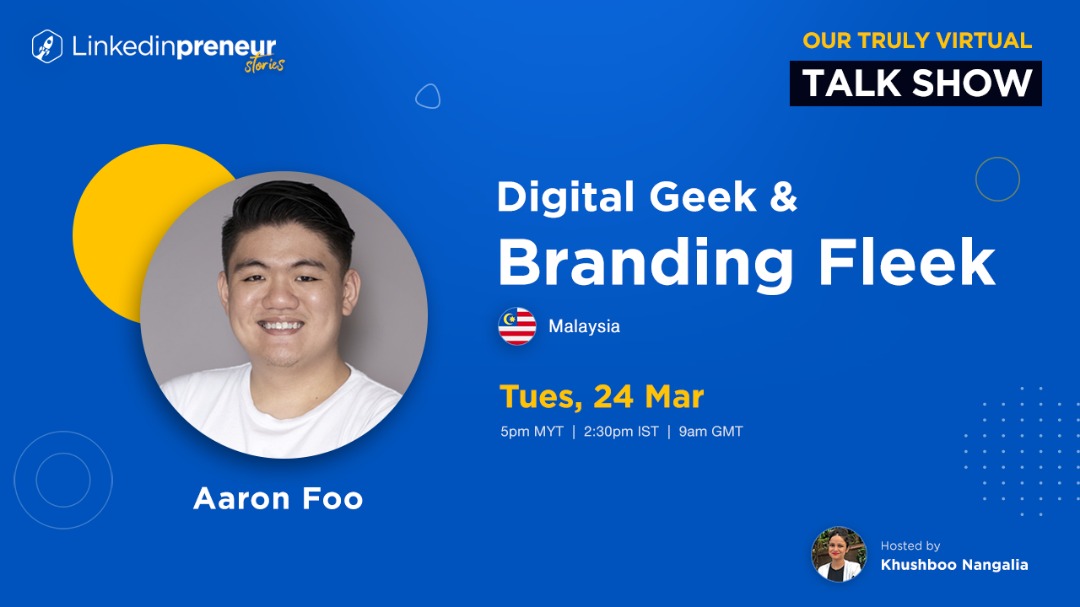 He is here to give some of his tips on how to maintain and balance corporate life along with personal life during this COVID-19 and also can be productive without going out from home.
Well, he firmly believes that it's not a tough situation, it's the tough people who survive in a tough situation.
Watch this episode of Linkedinpreneur Stories for COVID-19 special and know how to tackle your brand and still maintain your presence on social media and Linkedin and grow your business.
In this Episode, You are going to know
How exactly does Aaron balance his corporate and personal life
What is the one go-to marketing strategy to manage the brand situation and still be intact
Aaron's Favorite mentor, book
How did COVID-19 has affected his business and what measures is he taking to overcome the situations
A complete perspective on this COVID situation and how do you want a normal retailer to perceive this situation and go forth from here
Should people with the same professions share ideas on Linkedin without hesitating? And many more
What goes on Aaron's mind before selecting his LinkedIn post
One advice from Aaron to the people who want to jumpstart on Linkedin?
Well, it was a great experience chatting with Aaron Foo and sharing our ideas and also learn a lot about branding from him. If you want to know everything from branding to strategy then tune in to today's episode.
Get in touch with Aaron at