Starting a business can be a tough call and to run it successfully with patients and care is the main challenge. Every business does not meet the success that it dreamt of. Well, there are thousands of businesses opening every day and thousands that are getting shut every day. Some businesses do not meet the goal of achieving a million-dollar, especially if the business has just started. But that does not mean it cannot earn a million-dollar.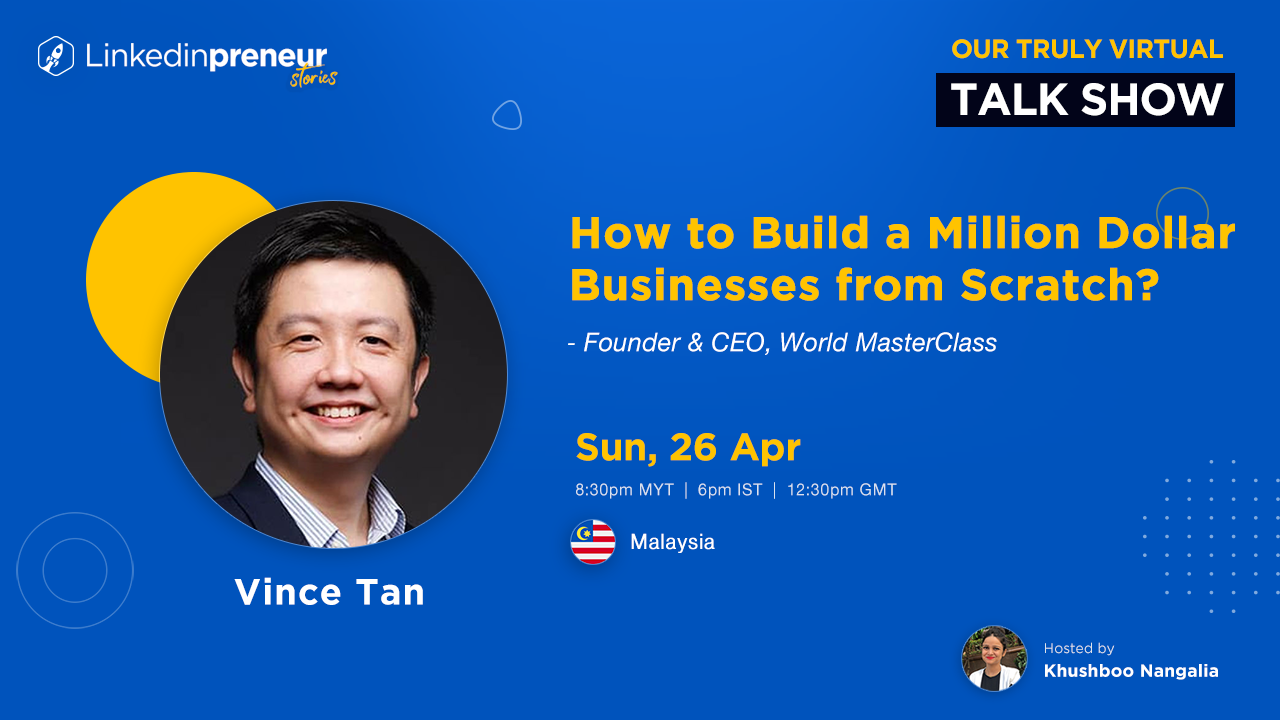 In today's EP06 of #Linkedinpreneur Stories - Edition 1.2 we have Vince Tan from #Malaysia - CEO Of Shock Media Studio and who himself build not only one but 3 companies from scratch into a million-dollar business.

He is here to share his success and strategical tactics with us along with advice on "How to Build a Million Dollar Business from Scratch?". He Generated almost $1 million in 7 days from 4 product launches online. He was awarded as top 30 Outstanding Young Malaysian Award and he is one of the 100 most Influential Young Entrepreneurs.
Well, he was 9 years old when he started teaching Html code to his school friends and also took special permission from the U.S to allow him internet access. His mischievous nature and interest in doing things made him what he is now. He firmly believes that people are going to stick to this lifestyle of Digital as we love to enjoy the comfort of everything without going out.
Sometimes we haven't achieved what we wanna achieve, it's not because we are not smart enough or hard-working enough. It's just because we don't know what we don't know
So if you want to know more about the secrets and all the tips on how to become a successful entrepreneur and earn million dollars during this pandemic then stick with us
Here is a sneak peek from today's episode:
Top of your mind round
Growth - Hacking
Transformation - Digital
Tech Geek - Bill Gates
Power - Love it
Money - Love it
Unstoppable - Yes, I am
Melisa - Love of my life
Secret - Can't think of anything
Challange - Every day is a challenge
Malaysia - Full of potential
Masterclass - Entrepreneurship
Life - Beautifull
Family - No1
Food - Passion
Purpose - Impact
Vince Tan - Invincible
In this Episode, You are going to know
What were the hurdle and failures that Vince faced and how did he overcome them?
How to kick-start to sell a service effectively?
How to plan a startup during this pandemic with finances running tight, markets uncertain and the situation is scary for everyone?
What is Vince's key advice or suggestion for the people who are planning to start a business or already running a business but going through a tough time and aiming to grow on the million-dollar company?
What are the don'ts people should follow when they are starting or scaling a business?
What is the world-class masterclass and 100x digital master class?
What is the key advice you would give to a budding entrepreneur? Especially in the current COVID-19 situation?
I am truly honored to bring Vince in this Linkedinpreneur Stories with us. He is truly a mentor and an amazing advisor to many people. His candidness and humbleness truly touched my soul. If you guys want more from Vince then stay tuned to today's episode of Linkedinpreneur Stories
Get in touch with Vince Tan at