Well, it's a very common question that people seldom ask themself, which is how to be rich and grow wealth. There are thousands of millennials out there, but being rich does not always mean having a lot of money, there are habits, behaviors, rules that initially allows you to be rich and grow wealth. There are thousands of potential ways one can start earning money, you just need to find the most that you will be able to do and get on to it.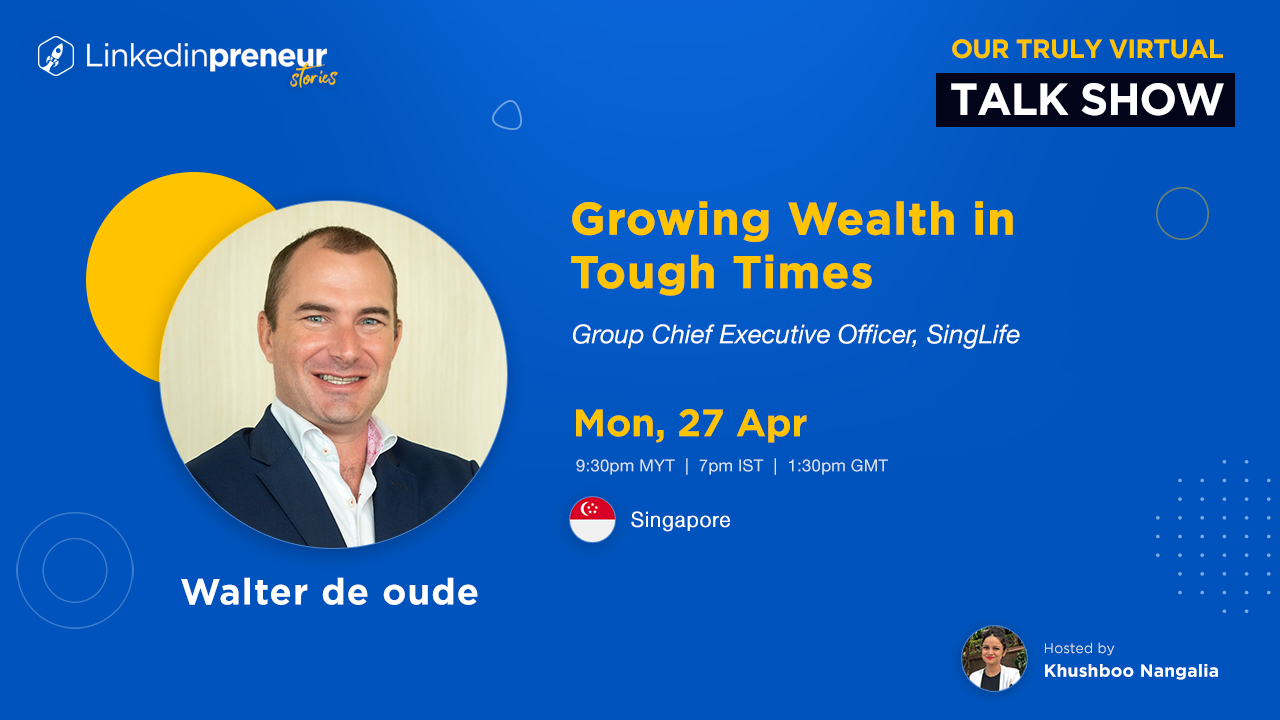 In today's EP07 of #Linkedinpreneur Stories - Edition 1.2, we have someone who is an expert towards wealth management, money management. He knows where and when to invent and how you can manage your money. Welcoming Walter de Oude from #Singapore - CEO of Singlife. He was the former CEO of HSBC and have 20 years of experience in this field
He is here to share with us What is the Impact of Finance during this crisis of COVID-19 and how to combat it. He will also be sharing some tips on how people can manage and grow their wealth. He shared some really some good insights and explained what people are doing wrong what they should do to keep growing.
He advised if you have your key goal set in advance and if you stick to it and grow your wealth rather than thinking what is going to happen in the future then three is nothing that can make you worry or pull you down. In time like this, it is not well-advised to take any rush desition, stop worrying and panicking and try to stay calm.
People are fundamentally busy & time constrain, with these two things people don't have the time to really take care of important things that they should take care of.
This is the right time when you can know all the important things that you need to do in your life when it comes to becoming wealthy and earns money.
Here is a sneak peek from today's episode:
Top of the mind round
Insurance - Singlife
Idea - Innovation
Startup - Singlife
Singapore - Home
Japan - Skiing
Life - love
Travel - Japan
Wife - Cindy
Party -Weekend
Power - Donald Trump
Failure - Recovery
Digital - Singlife
Relationship - Family
Walter De Oude - Happy
In this Episode, You are going to know
Walter's thought on the current scenario especially the economic crisis we are in and the uncertainty we are facing?
How is he managing at the moment and What is his strategy for himself?
What are the key mistakes that people can end up making at this point in time and rushing to some decision in their finance management?
His suggestions for the company that is being impacted, how they can manage their wealth they have?
What does he think about the online product that are being used during this time, will they stick around or not?
A moment when he faced the real hurdle and that he had to manage?
What challenges does a CEO face running that of a huge company?
What does he want to be remembered for?
If you want to know all the insights on the economic structure and its impact throughout the world and how to deal with it, then stay tuned to today's episode of LinkedInpreneur Stories with none other than Walter de Oude.
Get in touch with Walter at